SC from WA writes ...

The quality of the finished writing slope is exceptional. It is an extremely fine object, worth the price, and it is an equal to my finest fountain pens.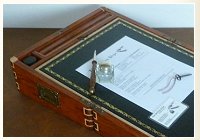 The materials, instruction, and finish are all excellent. Everything fits together nicely, both in mechanical and aesthetic terms, and the Bubinga wood is very pleasing in terms of color, grain, and smoothness.
The writing slope is a great enhancement of my writing experience. Thanks for your excellent work!
Writing Supplies:
Design Specifications: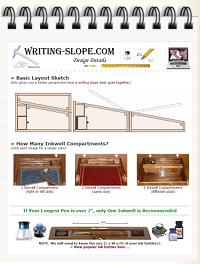 Hardware Sets: